Talk
Sulki & Min

:


Korean-Latin Type Combination: A Conceptual Approach

Korean types are frequently used in combination with Latin typefaces, not only in multilingual settings but also to render numerals and foreign names. The pairing is normally based on shared visual qualities for evenness in mixed-script settings. In this talk, Sulki and Min propose an alternative, idea-based approach to Korean-Latin type combination that is meaningful as well as beautiful.
About Sulki & Min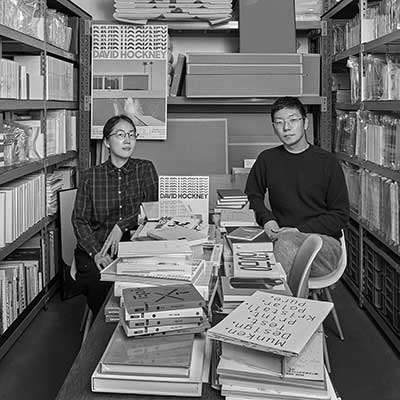 Choi Sulki and Choi Sung Min are graphic designers based in and around Seoul, South Korea. They met at Yale University where they both earned their MFA degrees. After working as researchers at the Jan van Eyck Academie in Maastricht, they returned to Korea in 2005 to start their practice. Since then, they have created graphic identities, promotional materials, publications, and websites for clients including the National Museum of Modern and Contemporary Art (MMCA), Seoul Museum of Art (SeMA), Asia Culture Center, BMW Guggenheim Lab, Munhakdongne, and Mass Studies. Crossing the border between design and art, they have participated in numerous exhibitions in Korea and abroad. Their recent solo exhibitions in Seoul were held at Perigee Gallery in 2017 and Whistle in 2020. The first mid-career survey of their work has opened in 2021 at the Kyoto DDD Gallery, Japan. Their work is included in the permanent collection of MMCA, Gwacheon; M+, Hong Kong; Cooper Hewitt, Smithsonian Design Museum, New York; Musée des Arts Décoratifs, Paris; and Victoria & Albert Museum, London. They have written and translated extensively on the subject of graphic design and typography and published artist books through their own Specter Press since 2006. They have lectured and taught internationally, at such institutions as Walker Art Center, Minneapolis; International Biennial of Graphic Design Brno; Osaka University of Arts; China Central Academy of Fine Arts, Beijing; Rhode Island School of Design, Providence; Yale University; Central Saint Martins, London; and Het Nieuwe Instituut, Rotterdam. Sulki is an associate professor at Kaywon University of Art & Design, and Sung Min is a professor at the University of Seoul.
Stay Updated
Join the mailing list for the latest news and announcements.