Talk
kooperativ

:


The Secret Life of Cyrillic. Self-organizing Structures and Neutrality

What can an alphabet tell us about itself by itself? Is there anything in it that we don't know? Can there be something happening inside an alphabet beyond our perception? What kind of something? Who is designing type? Can type act as a subject? Can type draw itself? These questions will be discussed in the context of a research project Neutral Cyrillic for Neutral typeface (designed by Kai Bernau and published by Typotheque).
About kooperativ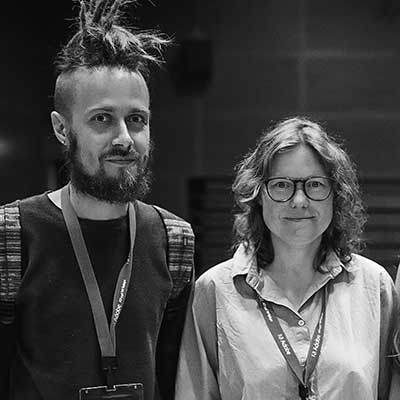 Irina Smirnova and Max Ilinov started to work together in 2018 as 'kooperativ' with the intention to comprehend type design through interdisciplinary research and conceptual approach.
Irina graduated from Type&Media in 2010 and has been designing Cyrillic for Typotheque and other studios, consulting and teaching. To find the connection between writing and type design she dived deeply into the theory and practice of calligraphy. Max Ilinov, being involved in sound performing, theatre practices, and programming stuff, has done a one-year type design course in Saint Petersburg to switch his scope from graphic design in general to type design as a storytelling medium.
Stay Updated
Join the mailing list for the latest news and announcements.